Check out all stories
Script for InDesign. Written and tested in InDesign 2020 by Kasyan
As the name suggests, it checks out all InCopy stories. Sometimes I have to replace fonts in several documents using the 'Find Font' feature. Since we use InCopy for proofreading and editing text, I can't do it until I check out the stories. For some reason, InDesign silently ignores the 'Change All' command: makes no changes and gives no warning. Without the script I had to find text frames containing the font one-by-one, check out them and make a replacement. The text frames are often hidden from the view – located on master pages or the pasteboard – so it takes a while to look for them.
InDesign has the 'Check In All' feature but has no 'Check Out All' one which I would like to have so I added it on my own.
The script comes in two variants:
Check out all stories.jsx – is a regular script
Add Check out all stories menu.jsx – is a startup script that creates the 'Check Out All' menu following the Edit > InCopy > Check Out command. (However, so far, it will work only in the English version of InDesign.)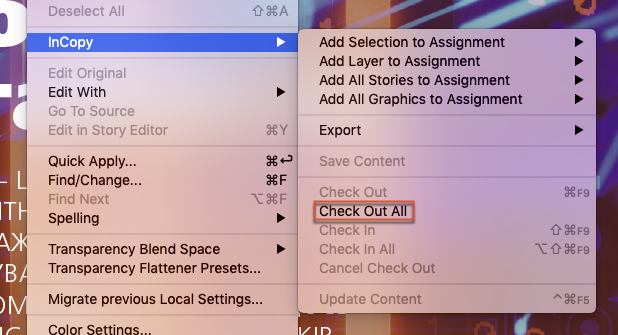 Note: if no document is open in InDesign, the menu is disabled.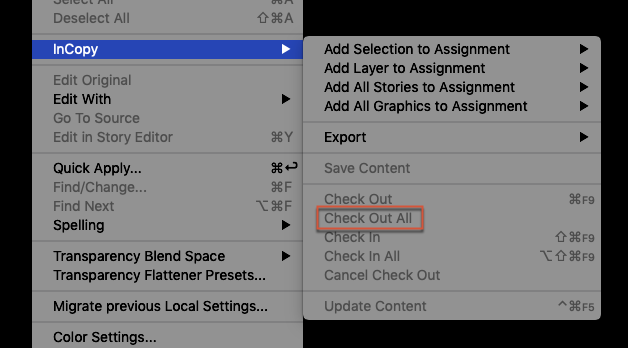 Click here to download English version of the script.
---
If you found this script useful and want me to make more free scripts, consider supporting me by donating. To donate, please press the button below. This is Paypal's payment system.
---
Also, here is the Russian version.